Atec system
The page is updated regularly: Last updated: 2022-02-24 Section - "Atec system"
Description
The Atec multibeam sonar is designed for high resolution seafloor survey. This compact sonar, with integrated transceiver and sound speed sensor, connects directly to Olex via Ethernet and is automatically controlled without any need for manual operation. The sonar uses broadband technology for increased range and accuracy, and has a high ping rate, wide maximum swath coverage of 180 degrees and 0,5 – 500 meters depth range. The Atec software module in Olex becomes the sonars top-end software, and various parameters like pulse length, bandwidth etc, is changed automatically. The sonar is continuously adjusted to provide maximum ping rate and best resolution according to the varying water depth. Atec can also be controlled manually to obtain more fine tuning. Via our dealers, we can offer a complete survey system consisting of Olex, Atec sonar and different solutions for position, attitude, and sound velocity. The seabed data can be exported as a complete Olex 3D model, as text files for import to other GIS, or as screenshots.
A typical delivery of Atec can comprise:
Olex software, full
HT and Atec software nokkel
Atec 200 sonar
Spatial or Certus motion sensor or roll-, pitch- and heave- sensor and heading source.
(RTK -) GPS
External sound speed sensor
Diagram
Depending on area of use and accuracy requirements, a complete Atec system comprises Olex, Atec sonar and different solutions for position, altitude, attitude and sound speed. Two different diagrams are provided. Interface capabilities, power supplies and power cables are not shown.
Atec with AHRS - Attitude and Heading Reference system.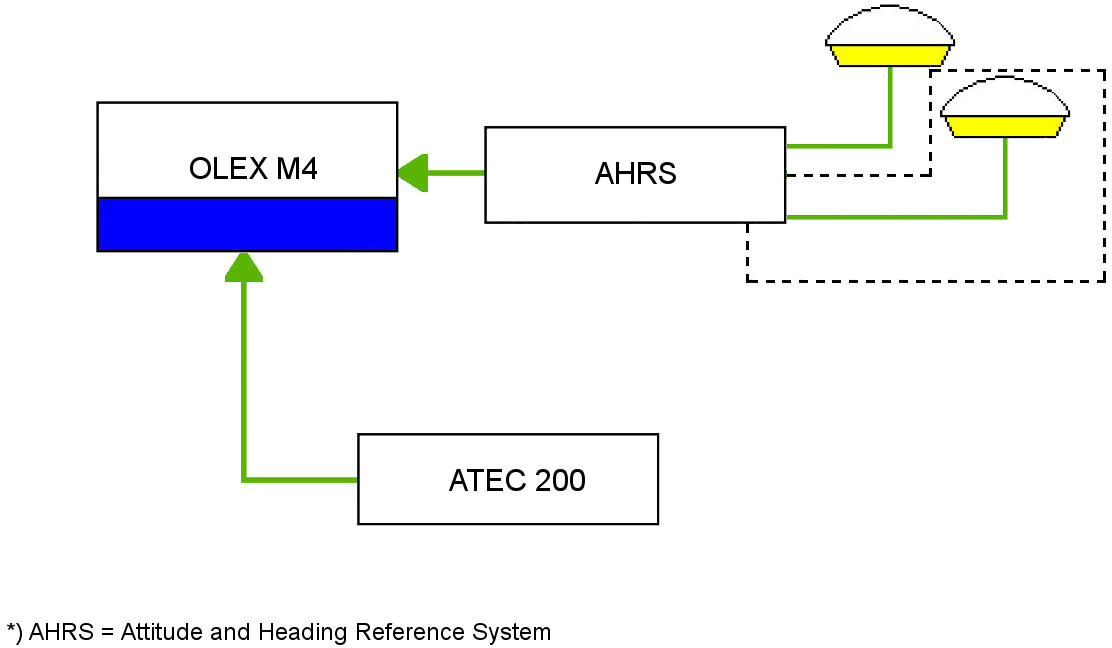 AHRS is a common name for attitude reference-systems consisting of sensors on three axes that provide attitude- and heading- information. AHRS-systems makes a more cost effective solution than conventional high-grade instruments.
Spatial - Advanced Navigation
Spatial is a small position and attitude sensor from Advanced Navigation in Australia. It combines accelerometers with GPS and magnetic compass, and provides pitch, roll, heave, heading, position, course and speed. A complete Atec system may consist of Olex with ATEC and HT software, Atec multibeam sonar, and just Spatial. Spatial promises 0.1 degrees accuracy in pitch and roll, 0.8 degrees in heading, and 5 cm or 5% in heave. The accuracy depends on the placement and calibration of the sensor and the magnetic compass. The sensor should be mounted close to vessel CG and its antenna must have a clear sky view. A practical site may be low in the wheelhouse, with the antenna outside.
Certus - Advanced Navigation
Certus Evo is an ultra high accuracy GNSS/INS that provides accurate position, velocity, acceleration and orientation under the most demanding conditions. It combines ultra high accuracy temperature calibrated MEMS accelerometers, gyroscopes, magnetometers and a pressure sensor with a dual antenna RTK GNSS receiver. The Certus EVO is a more accurate alternative to Spatial, and uses RTK-GPS combined with 1 or 2 external GPS-antennas for better positioning.
Atec with external sensors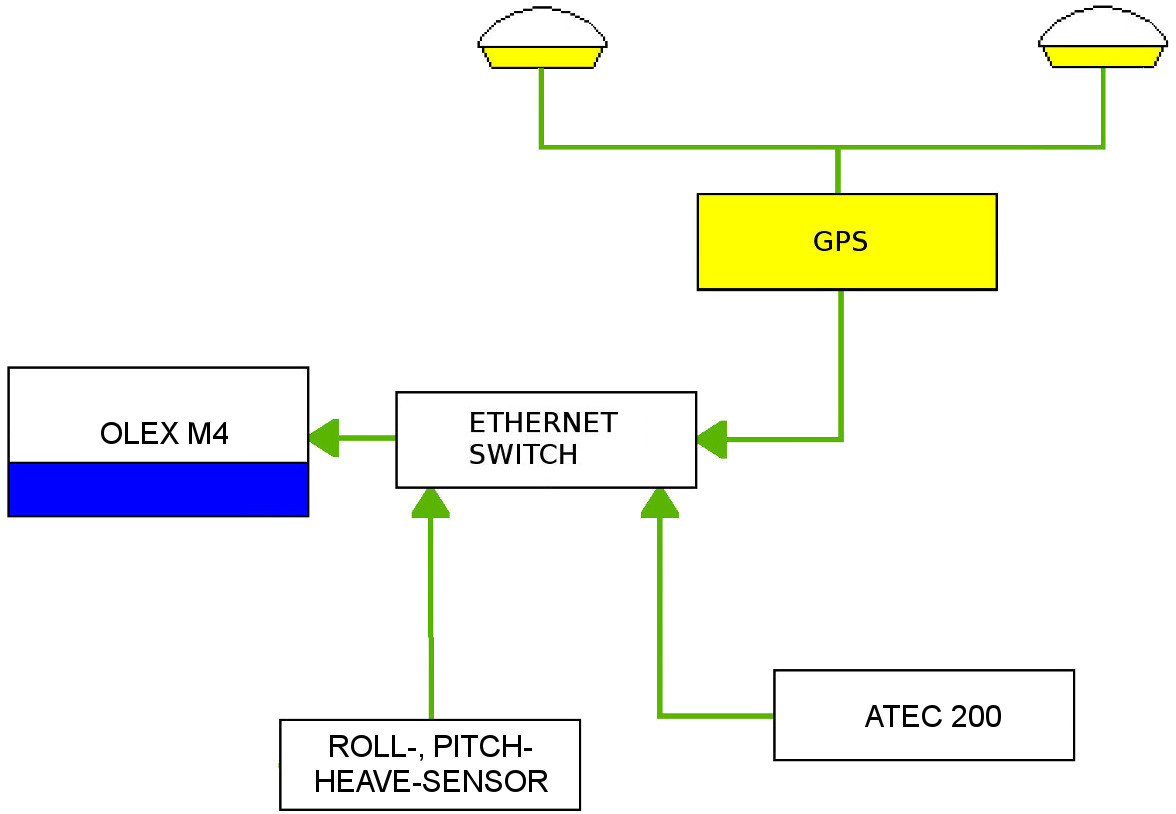 GPS - and RTK-GPS
Ordinary GPS-receivers has a normal accuracy of app. metres if the sky view to the satellites is good. RTK-GPS makes a considerable improvement in positioning, and is the application used to correct for common errors and delays in the current satellite navigation. The phase difference in the signal carrier is measured, and time corrections from reference stations on land are received. The RTK-service is provided from "Det Norske Kartverket" in Norway, or e.g., NTRIP in other areas. See RTK - Real Time Kinematics for more information.
MRU - Motion Reference Unit
The Kongsberg MRU is one of the best motion sensors on the market. It is suitable for any marine operation that requires attitude determination and motion compensation. The sensor has low angular noise and high stability and provides high accuracy motion measurements in all dynamic environments. E.g the 5th generation MRU has a documented roll- and pitch accuracy of 0,01 deg, and angular noise less than 0,02 deg. The MRU can be mounted inside the ship hull, close to the barycentre. Waterproof versions can be mounted directly on the hull.
Heading source
Different heading sensors can be used with Atec 200, e.g., satelit compass from Furuno, JRC or TSS DMS 05.
Network
The Atec 200 uses Ethernet communication, and when using external GPS and sources for altitude and heading, an external ethernet- switch is required.